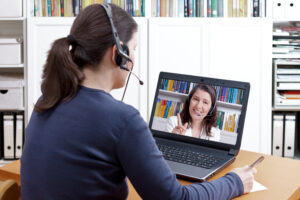 In this crazy time of COVID-19 crisis, I automatically "look for the helpers," and I am incredibly grateful that I see them everywhere. The healthcare workers on the frontlines, the men and women who make deliveries to all of us in our houses, the teachers scrambling to continue to teach their students. 
And Blue Canoe is a helper, too. Our mobile AI app empowers ESL teachers to provide a great learning experience to their students, even while at home. 
We are now offering FREE subscriptions for all classrooms in middle schools, high schools and colleges, as well as some nonprofits, through June 30, 2020, so that every student with access to a mobile phone can continue to learn and improve their spoken English, from the safety of their own home.
We have worked with hundreds of ESL teachers and classrooms all over the world, including universities, community colleges, nonprofit organizations, and more. If you are an ESL teacher at a school that is now having to teach remotely, we welcome you to get Blue Canoe for your students.
Blue Canoe Teacher Program (Free through June 30, 2020)
Teachers offer Blue Canoe accounts to their students

Students set up their personalized Blue Canoe accounts, and learn and practice speaking English clearly on their phones for 10+ minutes a day with immediate feedback from the virtual AI teacher. 

Blue Canoe provides a companion set of videos for students to watch, including an "Blue Canoe and YOU" and additional key lessons and engaging tips.

Teachers can track students' activity and progress in a web dashboard.
Please get started immediately by completing this form.
Together, let's use this time to help make the world a better place for our students, by giving them an effective and engaging way to improve their confidence and clarity in speaking English, changing lives and careers in the process.
Please stay safe, everyone!
– Sarah, CEO, Blue Canoe