Pilot study shows technology breakthrough for adults in improving spoken fluency in English
Blended Learning Drives Significant Advance in Clear Spoken English
Blue Canoe Learning and Native English Institute (NEI) have completed a three-month study that evaluated Japanese and Russian participants who are working to improve their English.
By combining a weekly online 1:1 session with an expert NEI teacher with daily 10-minute practices with the Blue Canoe mobile app, study participants significantly improved the comprehensibility of their spoken English in just three months. Both the teachers and the app used the Color Vowel® System, which stimulates the visual, music, and movement parts of the brain to better perceive and produce the sounds of a new language than the regular "language center" of the brain.
Study participants were measured on the comprehensibility of their speech before and after the pilot using two independent methods, and each showed significant improvement and noticeable change. The Blue Canoe Pronunciation Score of study participants, which was measured via machine learning, improved an average of 31 points on a 500-point scale. An NEI evaluator assessed the study participants on a 108-point scale that measured word stress and vowel sound, and their scores increased an average of 7.5 points.
The improvement can be heard by listening to recordings of words and sentences from the assessment before and after the pilot.
The results speak for themselves
The area of the brain that hears new sounds is no longer active after adolescence. That's why Blue Canoe engages the visual, music and kinesthetic (movement) parts of the brain to create new pathways for the sounds of English. The Blue Canoe mobile app offers engaging activities, provides immediate feedback to users' speech with an AI virtual teacher, tracks users' activities, and provides objective Pronunciation Scores on users' speech.
NEI uses an individually-customized method that helps students build communicative fluency by focusing on relevant content and meaningful repetition. The NEI technology platform curates a learning content stream for each student.
NEI's team of native speaker teachers are all TESL-certified professionals. Weekly lessons via video-conference reinforce each student's personalized curriculum.
The 29 participants who completed the study all used the Blue Canoe app at least one hour a week. Most participants used the app 10 minutes every day on their smartphones. Participants met for a half hour weekly online (one on one) with an NEI teacher for focused discussions regarding their work and other topics important to them. As pronunciation mistakes emerged in these lessons, teachers helped them by using Blue Canoe to understand and correct their errors.
Human-graded. Using an assessment created specifically for the pilot, a trained evaluator measured accuracy of vowel sound production, word-level stress, and sentence-level stress from each participant recorded before and after the pilot. Word stress and vowel sound production scores increased 7.5 points on average on a 108-point scale, creating marked improvement in overall comprehensibility. One participant achieved a perfect score of 108 on the final assessment (from a Before Score of 101.5).
Machine-graded. Using the embedded Blue Canoe Pronunciation Score, which instantly assesses and scores the comprehensibility of a user's

speech, participants improved an average of 31 points on a 500-point scale, from an average beginning score of 288 to an average final score of 319.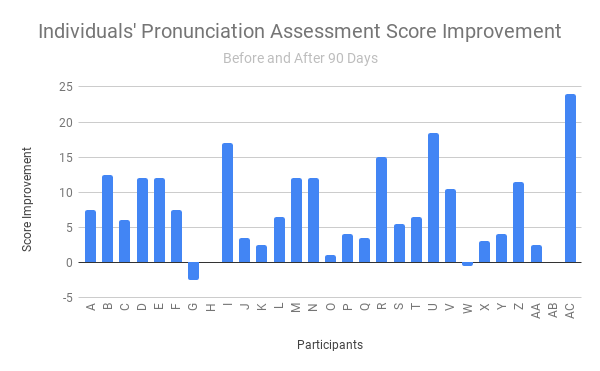 Participants' success was measured in two independent assessments:
Watch these breakthrough moments as students achieve a milestone through working with NEI teachers on Blue Canoe exercises.
What participants are saying
"Using Blue Canoe and practicing with NEI teachers really helped me improve my pronunciation! Now I have a better understanding of vowel sounds and stress, and I feel more confident when I speak."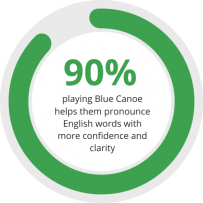 "I found Blue Canoe very useful for me. I feel my pronunciation progress and absolutely sure that it caused by the Color Vowel method. First of all I remember stresses of a lot of words. Then I found out and filled the differences between similar sounds. The other great job that is just began, not finished, is to learn how to adjust my jaws, tongue, leaps and throat to produce sounds correctly."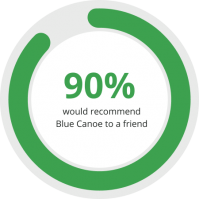 "I can recognize when something isn't good with my pronunciation. The AI points it out and I can gradually recognize problems with my pronunciation and then correct it."
"Daily practice of Blue Canoe helped me to learn how words and sentences are pronounced with the right sounds and stresses. Thanks to Blue Canoe I started to understand and distinguish sounds. Now I am speaking English with greater awareness and more confidence!"

Specific improvement cited by participants

"I have learned how to distinguish subtle pronunciation and how to move my tongue and lips by playing Blue Canoe and practicing with NEI teacher. I think that practicing again and again is very important for me to improve my pronunciation and to get a sense for new words, because English pronunciation is very complicated."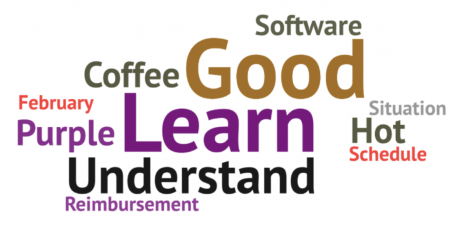 Participants reported words that they used to find challenging to pronounce, and that Blue Canoe helped them to "conquer."
"I improved my knowledge of the idioms, practiced a lot in pronunciation with the focus on the stress and Color Vowel Chart, enjoyed the learning process through games."

"It was the most memorable to learn the pronunciation of "cafe". I had taken mistake both stress and vowel before I was told that by NEI teacher."

"The Blue Canoe app and the Color Vowel System help demystify the vowel sounds and word stress of English. The gamification elements of the app really motivate learners to spend time each day training their 'pronunciation muscle.'"
- Kristina Ekiz, Education Director, NEI
"We saw a 90% engagement rate in these study participants. The study showed that our mobile app combined with live, dynamic teacher reinforcement can help adults overcome communication barriers faster."

- Sarah Daniels, CEO, Blue Canoe
Ready to learn more about working with NEI and Blue Canoe for your English training?
Copyright © 2019 Blue Canoe and Native English Institute